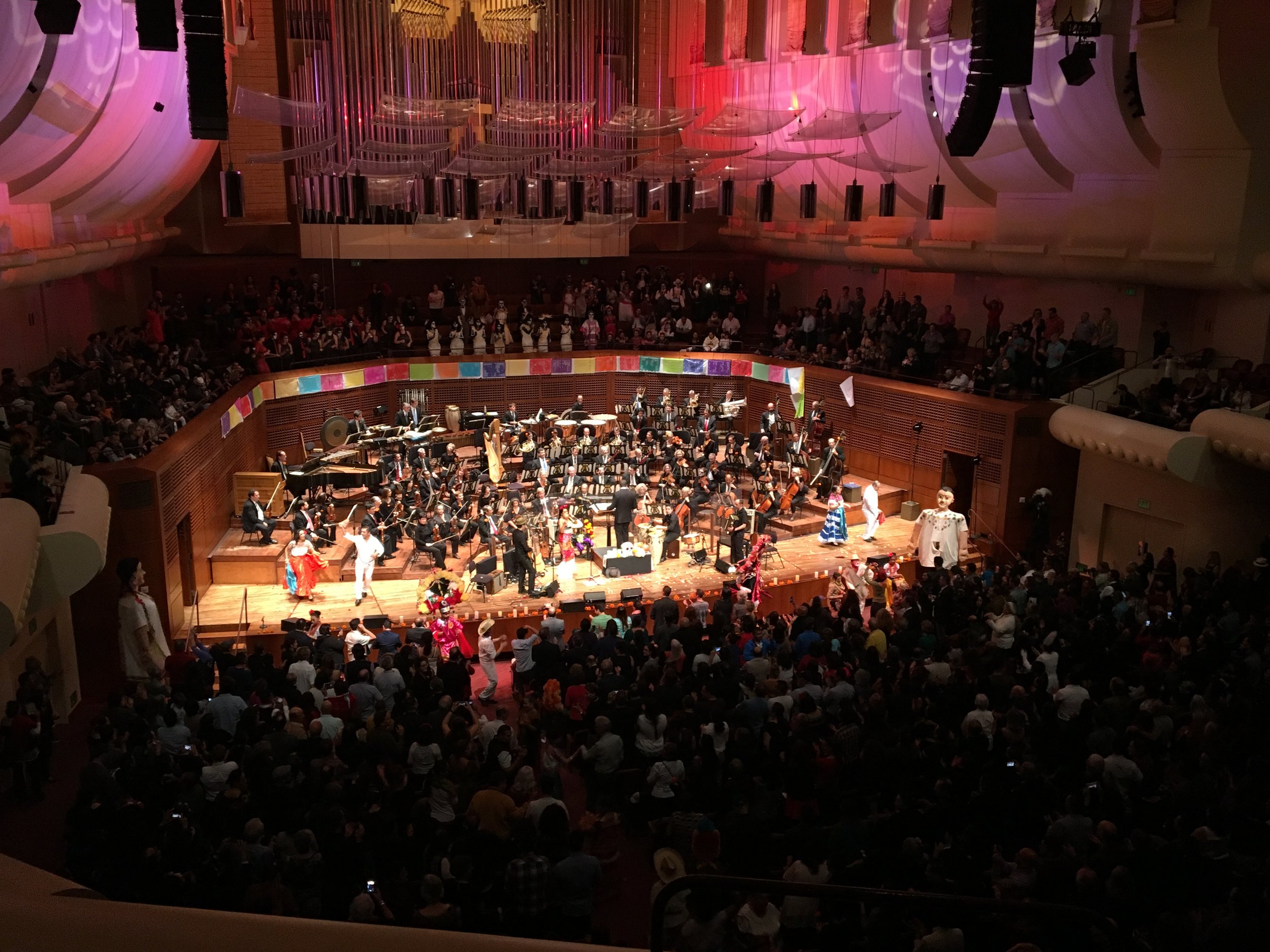 When I began working at the San Francisco Symphony in 2013, we were well aware of perennially declining attendance at orchestras (both in San Francisco and nationwide), driven by several barriers to entry for new audiences. It's intimidating to sit politely still for a two hour-long parade of dense, unfamiliar music, and a lot of people were choosing more engaging options for a night out. While we tackled a lot of these issues head-on in the SoundBox project next door, I took full advantage of my "day job" as Associate Director of Artistic Planning to run a number of sneaky little experiments in other areas.
The great thing about the concert series under my purview (holiday concerts, light summer programming, educational shows for kids, cultural events, etc.) was that they were a great deal less formal than most of the Symphony's output. Thus, I was expressly allowed to "show the audience a good time" without too much fussing under the watchful eye of critics and connoisseurs. This freedom allowed me to tinker extensively with how we communicate about music, engage the passions of our audiences, and tell musical stories with several mediums at our disposal—without breaking the bank!
Moving from Monologue to Dialogue
The Music for Families series (targeted to kids ages 7-12) was an arena where we had express permission to educate inquisitive minds about music, but it was languishing (both conceptually and in terms of ticket sales) under the format of a one-way lecture from the stage. And what child doesn't dream of being dragged to another lecture on a precious day off from school?
Conductor Edwin Outwater and I started collaborating on a series of tweaks we might make to the format of these concerts. How could we break up the monotony of alternating short pieces with a conductor droning on about music history? We wanted to create a dialogue—with the audience, with the musicians on stage, or with other characters. By showcasing that even conductors and musicians have questions and look for answers, we could encourage the kids (and parents) in the audience to feel comfortable satisfying their curiosity at home.
In order to drive home this point, we wanted to put learning in a familiar context, and we realized one of the main ways to find out information at home was to ask the nice lady who lives on the internet! Thus, the character of HARMONIA 3000 was born. She was the newly installed onboard computer of Davies Symphony Hall, and she lived conceptually somewhere between the iPhone's Siri and the ship's computer on Star Trek.
Let's hear HARMONIA in action on stage with Edwin:
HARMONIA tries to absorb the concept of 'pizzicato' with some difficulty, helped by a cellist and the conductor.
HARMONIA helps put together the different sections of the orchestra for a performance of the William Tell Overture.
Voiced by the talented actor Mary Dilts from a hidden off-stage location, HARMONIA's presence emanated from the ceiling of the concert hall in a totally believable context for any kid with a smartphone. Edwin and I wrote all the scripts, allowing HARMONIA to launch quizzes, provide definitions, and learn along with the audience. This looser narrative structure allowed for moments of confusion and triumph, and it gave kids in the audience great satisfaction when they were able to occasionally outsmart the computer! To her credit, HARMONIA even started getting some extremely adorable fan mail during her three-year tenure at the Symphony.
Engagement By Any Means Necessary
The looser style of presentation in the Music for Families series cleared the way talking to grown-ups through our popular programming, where we knew we had a lot more first-time visitors who we wanted to come back. I found ways to work "educational moments" into all kinds of shows, as long as they were disguised as entertainment.
Our Director of Summer Concerts Edwin Outwater shared my enthusiasm, and when the New York Times published an article about the nerdy controversy over the car horn pitches in Gershwin's An American in Paris, he and I worked a bit of lecture-demonstration with the percussionists into our summer Gershwin show.
We also got other members of the orchestra into the teaching spirit, with personal touches like having one of our Russian violinists lead the audience in a sing-along to a Russian folk song at the core of Tchaikovsky's 4th Symphony.
Far and above my favorite moment in this vein was during a Halloween concert, where drag queen co-hosts Latrice Royale and Peaches Christ got a sensual lesson about the Theremin from performer Dorit Chrysler, before Chrysler performed the spooky Main Titles Theme from Ed Wood with the SF Symphony. No one can say I ever wasted a moment for our audience to learn something about music!
Creating A Christmas Miracle
In 2014, I was asked to fill a nine-concert run leading up to Christmas Eve with a brand-new "Symphony Holiday Spectacular" that would clear a tidy net profit for the SFS. I wanted to avoid the typical "off the rack" projects that obscured the fabulous sound of the orchestra, so I started hunting around for a nostalgic holiday hook I could design a whole production around.
Someone drew my attention to a small one-off ballet production of A Charlie Brown Christmas presented by the New York Pops orchestra and the New York Theatre Ballet at Carnegie Hall. It ran for one afternoon and left only a delightful album of photos on Facebook as a clue to its existence. The Charlie Brown Christmas TV special was a beloved local product (its creators Charles Schultz, Vince Guaraldi, and Lee Mendelson all hailed from the Bay Area), and I knew that if I could coax this production out west, our holiday spectacular concept would finally have some legs!
Nothing about the original production was designed to travel, and in bringing it to San Francisco, I had to stretch the SF Symphony's organizational capabilities. I built a local ballet corp in direct competition with "Nutcracker season." I sorted out proper child work rules for the five cast members under 18. I negotiated licensing deals with the Peanuts brand.
Meanwhile, I had to convince the dozen-or-so creative stakeholders that I had all the confidence in the world this would come off beautifully! (In truth, I felt the odds were 50-50) Thankfully when all was said and done, the show was a hit that provided a fantastic lift to the Symphony's holiday revenues at the end of the season.
Cleverly constructed by director and choreographer Liza Gennaro, its combination of live dancers, ballet pantomime and real children reciting the classic dialogue felt fresh and surprising. By far, the best part was the personification of the "sad Christmas tree" as an adorable little girl in a brown leotard with twigs, who stole the show every time she appeared. With Schultz's illustrations providing an animated backdrop and Guaraldi's iconic music flowing from the orchestra, the show was packed with nostalgia essential to any holiday offering.
With A Charlie Brown Christmas as a home-grown headliner, I was able to build out an entire first act of music from the swinging mid-century era of jazzy Christmas standards that featured the orchestra beautifully. I commissioned a medley of famous San Francisco melodies woven together with Christmas carols and brought in veteran Broadway talent to host the show and engage the family crowd in sing-alongs and more.
Cross-Cultural Programming
Eventually, I became accustomed to being pitched on all sorts of unusual pairings with orchestra, and I often responded by asking "why not?" As long as there was a way for both the orchestra and its invited guests to speak authentically to the audience, I was up for the challenge of getting them into the same musical conversation.
This led to all kinds of cross-cultural events, including (surprisingly) the first bookings of a drag vocalist with the SFS, a Philip Glass song cycle in the Yoruba language with Angélique Kidjo, and a gala concert in honor of Super Bowl 50 featuring the music of the NFL! In the case of the latter, I had to dig really deep into the repertoire to find appropriate pairings, but in my opinion, the score to the film Rudy never sounded so gorgeous. (check out the NBC News video about the NFL concert, featuring a very funny joke by yours truly).
In their best moments, these projects sparked an ongoing relationship with new Bay Area communities, especially in the case of our annual Día de los Muertos festival. I came in during its 6th year, with an infrastructure of local artists, dancers and musicians already excited about making each year bigger than the last.
To capitalize on this enthusiasm, I brought in Mexican-American folk star Lila Downs and commissioned a brand-new orchestral show for her. We styled all the ofrenda (altars to the dead), dancers and music to celebrate her Oaxacan heritage and created one of my all-time favorite experiences during my time at the SFS. The festival doubled in size that year and helped build an audience to support more diverse cultural bookings throughout the season.